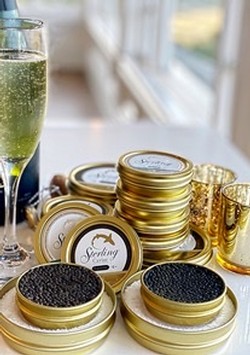 Bubbles & Caviar Reservation Deposit - President's Weekend (non-refundable)
Join us one day over President's Weekend (Fri-Mon) 2022!
We have done the taste test with our staff and we were excitedly in agreement with Food and Wine's recommendation. Pair it with our selection of bubbles and we were beyond giddy at the elegance and explosion of flavor profiles. In fact, we were so pleased, we knew we had to share this combination of flavors with you! But, what caviar could be used for such an occassion? Only the best would do!
Sterling Caviar is ideal for this pairing, not only because it's exquisite, but because we value their Sustainability and Traceability of their products. They are farm to fork. We receive their product straight from the source in overnight cold packs, fresh as can be. They continuously retain a well respected reputation in the culinary community due to their great integrity and high-quality approach to production.
We are excited to bring to you this magnificent treat and pairing for 2 weekends only! Join us over Valentine's weekend or President's weekend 2022 to enliven your taste buds with our three Sparkling Wines - Blanc de Blanc, Blanc De Noir, and Foxy Bubbles - paired with your own 30g jar of Sterling Caviar along with creme fraische to dollop, chips to be used as your crunchy vessel and a beautiful pearl spoon to bring this wonderful creation together.
Reservations are required as we have to order the caviar based upon the number of people we have confirmed to attend. Please note the reservation deadlines listed. This ensures that we can receive the caviar fresh for your visit the following weekend.
Click the links below to reserve your spot today!
We look forward to seeing you there!
EVENT DETAILS
This event will be held at our Los Olivos tasting room and will include the following for 2 people: Tastings of each of our three sparkling wines (for both people) 30g tin of Sterling Caviar Chips and Cream Fraische A Pearl Spoon for serving and to take home
•
R e g u l a r P r i c e : $ 1 5 0 p e r c o u p l e
W i n e C l u b P r i c e : $ 1 2 0 p e r c o u p l e
**There is a $50 non-refundable deposit**
The remaining charge will be processed on the day of your visit
---
Product Reviews