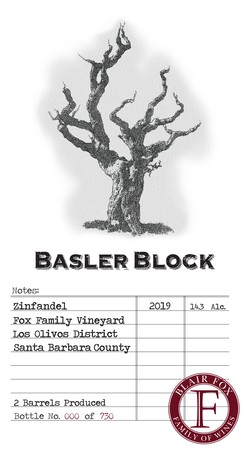 2019 Basler Block Zinfandel
Vineyards and Composition: 100% Fox Family Vineyard, Los Olivos, Santa Barbara County.
Barrel Aging and Cooperage: 100% Barrel fermented in French and American Oak Barrels for 22 months plus 2 years bottle aging
Winemaking: This is the seventh release of a varietal Zinfandel from the Fox Family Vineyard. The Basler Block is named after my mother's parents, my grandparents, Vance and Carole Basler. They were both the children of immigrants who grew up in a small rural, farming town in Iowa. I feel it is from them, whom I acquired an innate ability to farm. I planted the Basler Block similarly to the way Zinfandel had been planted in America for the last two centuries, head-trained in a goblet on a 6 by 6 spacing with only a stake for trellising. The cuttings came from the St. Peters Church clone produced over one hundred years ago and isolated from the Rockpile Vineyard in Sonoma. This small block is farmed by my father and me entirely by hand with only natural inputs. Each bottle is numbered and made in extremely tiny quantities. It was aged in French oak and bottled after twenty-six months of barrel aging and aged an additional two years in bottle prior to its release with the Spring Estate Club shipment of 2023. As far as I can find, this is the highest scoring Zinfandel and most limited bottling to ever be produced in Santa Barbara County!
Production: 45 cases
Bottle Aging: Drink in 3-5 years
Retail Price: $55 per bottle / Wine Club Price: $44 per bottle
To receive the Wine Club Price, please log into your wine club account before purchasing
Wine Specs
Appellation
Los Olivos District
---
Product Reviews